Train2Train is now offering distance learning, virtual classrooms, e-assessment and remote invigilation on our Highfield qualifications.
You can now use our solutions to study, sit exams and become qualified from your own home with quicker result turnaround.
Turn your home into the perfect learning and assessment environment today.
Call or email for more information on how to take advantage of this innovative solution to learning in isolated conditions.
What's Included
E-Learning / Virtual Classroom
If you wish to gain a formal regulated qualification from Highfield Qualifications after completing one of our e-learning courses then this is also possible. For further information with regards to this please contact the Train2Train office on 01302 363136 and speak to a member of the team for further details of how this can be achieved .
E-Assessment
e-Assessment – regulated assessments on your computer.
Are your candidates ready for assessment but are working from home? Don't delay qualifications. Our e-assessment platform enables them to complete their assessment from anywhere with an internet connection
Remote Invigilation
Implementing our new remote invigilation process allows for accurate and regulated exam conditions that are accessible from anywhere in the world with an internet connection. All your candidates will need is an isolated area to sit the exam, a computer, webcam or built in laptop camera, smartphone and some form of identification, such as a driving licence.
How Qualify at Home Works
You email Train2Train with the course that you are interested in.
Train2Train will email you back with all the information required and you can then decide whether you would like to go ahead.
Following payment Train2Train will send you all the login details with instructions.
You provide Train2Train with a preferred time slot when you would like to sit the exam in the comfort of your own home or workplace. If booking for a team, you can complete this across multiple locations.
Full details on exam requirements and can be found in the Highfield candidate document.
As the assessment is digital, results are provided instantly, meaning faster turnarounds and more qualified learners
All learners will be sent their ecertificate to the provided email address.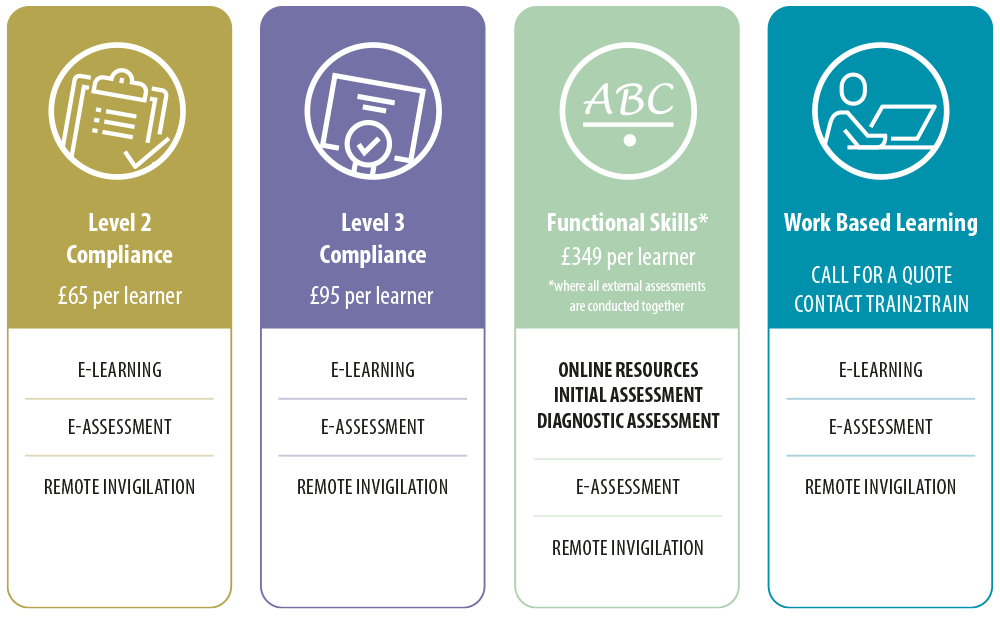 Call 01302 363136 or email info@train2train.org to find out how we can support you.
We are proud to offer the perfect home learning, assessment, and invigilation solution. Order from our wide range of Highfield courses and get started today.
Featured E-Learning Courses
Browse our Course Library